STRENGTH IN UNITY
We are working hard for the future welfare of our country. We are infinitely grateful to our global partners who add their strength to ours, who share our values and who contribute to our work in Azerbaijan.

The presentation of China's most luxurious business sedan "Hongqi H9" was held in Baku.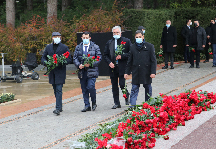 The management of "Jahan Holding" has paid tribute to the memory of national leader Heydar Aliyev.