STRENGTH IN UNITY
We are working hard for the future welfare of our country. We are infinitely grateful to our global partners who add their strength to ours, who share our values and who contribute to our work in Azerbaijan.
President of UCC "Jahan Holding" Vugar Abbasov and employees took part in the presentation of the new Lifan X-70 car.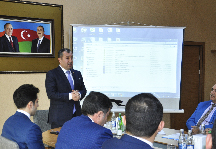 07 Fevral 2020-ci il tarixdə "Cahan Holdinq" Kommersiya Şirkətlər İttifaqının ilin yekunu ilə bağlı iclası keçirilmişdir.