STRENGTH IN UNITY
We are working hard for the future welfare of our country. We are infinitely grateful to our global partners who add their strength to ours, who share our values and who contribute to our work in Azerbaijan.
On May 14 production enterprise of fully-automated plastic pipe,profile and accessories established by "Cahan Industrial Complex" Limited Liability Company started operation.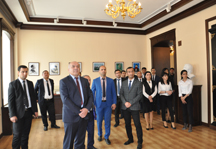 The employees of "Cahan Holding" Union of Commercial Companies visited Bahruz Kangarli Museum.